Degree in Computer Science (Software Development) With Honours - DC10
Objectives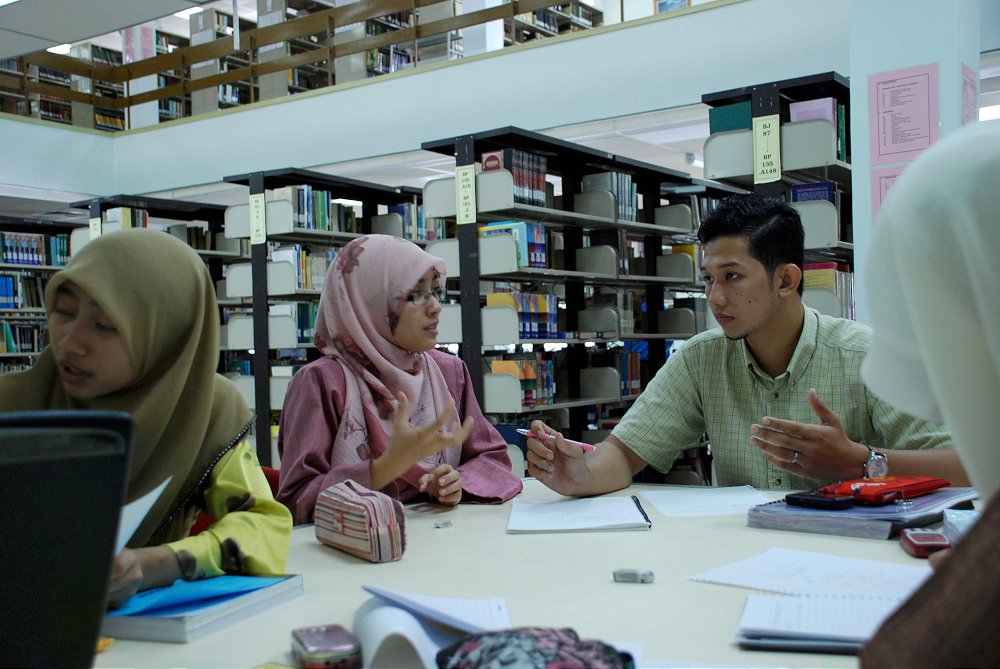 | | |
| --- | --- |
| 1. | To produce graduates that are skilled, creative thinking and dynamic who will contribute to software developments. |
| 2. | To produce highly skilled technical graduates to build softwares in market demand. |
| 3. | To expose graduates with latest techniques in software development processes. |
| 4. | To provide and enhance graduates who are a capable of doing research systematically and objectively thus making the required decisions and capable of the brightest and most precise ideas. |
| 5. | To provide elementary, enhanced and specialized academic education to graduates in the field of software development so as to be able to further their academic pursuit. |
Learning Outcomes
| | |
| --- | --- |
| PLO 1 | Acquire and apply knowledge of essential facts, concepts, principles, and theories of Computer Science, focusing on software development |
| PLO2 | Applying computing skills in analyzing ,   modelling, designing, developing, programming and evaluating efficient computing solutions in software development |
| PLO3 | Fulfill obligations and social responsibilities using appropriate social skills |
| PLO4 | Practice the value, attitude and professionalism in line with the related code of conduct |
| PLO5 | Communicate effectively with peers, clients, superiors and society at large; with appropriate leadership and  team work skills |
| PLO6 | Utilize scientific skills to analyze algorithms as well as designing optimal solution to software development problems |
| PLO7 | Manage information and engage in lifelong learning for academic and career development |
| PLO8 | Possess managerial and entrepreneurship skills in business and real world perspectives |
Courses Structure
Tahun
Semester
Kod baharu
Kursus
Kredit
Jenis
Prasyarat
1
1
CSF 11103
Problem Solving and Computer Programming
3
Teras
CSF 11203
Computer Organization and Architecture
3
Teras
CSF 11303
Human Machine Interaction
3
Teras
CSF 11403
Software Engineering Methods
3
Teras
CSF 11503
Social and Professional Ethics
3
Teras
PBI I0102
English for Communication I
2
Universiti
KK* ****
Ko Kurikulum
3
Universiti
Jumlah
20
2
CSF 11603
Discrete Mathematics
3
Teras
CSF 11703
Operating Systems
3
Teras
CSF 11803
Object Oriented Programming
3
Teras
CSB 11103 Problem Solving And Computer Programming
CSF 11903
Network and Security Fundamentals
3
Teras
MPU33012 / MPU33022
Ilmu Wahyu dan Sains / Moral & Etika II (Bukan Islam)
2
Universiti
MPU31022
TITAS (Tamadun Islam & Tamadun Asia)
2
Universiti
PBI 10***
Bahasa Arab/Bahasa Asing
2
Universiti
PBI 10202
English For Communication II*
2
Universiti
PBI 10102 English for Communication I
Jumlah
20
2
1
CSF 21103
Probability and Statistical Data Analysis
3
Teras
CSF 21203
System Analysis and Design
3
Teras
CSF 21303
Database
3
Teras
CSD 23103
Web Application Development
3
Pengkhususan
Free Module Elective I
3
Elektif Bebas
MPU31012
Hubungan Etnik
2
Universiti
Jumlah
17
2
CSF 21403
Data Structures and Algorithms
3
Teras
CSD 23203
Requirements Engineering and Sofware Design
3
Pengkhususan
CSD 23303
Software Project Management
3
Pengkhususan
MPU32092
Asas Pembudayaan Keusahawanan
2
Universiti
MPU33032 / MPU33042
Ilmu Wahyu dan Kemasyarakatan /Perbandingan Agama II (Bukan Islam)
2
Universiti
Programme Elective I
3
Elektif Program
Free Module Elective II
3
Elektif Bebas
Jumlah
19
3
1
CSD 33103
Software Testing and Analysis
3
Pengkhususan
CSD 33203
Software Development Workshop
3
Pengkhususan
CSD 33303
Compiler Development
3
Pengkhususan
CSF 31103
Artificial Intelligence
3
Teras
Free Module Elective III
3
Elektif Bebas
CSF35104
Final Year Project I
4
PI
Pernah mengambil subjek teras dan pengkhususan sehingga Tahun 2
Jumlah
19
2
CSD 33403
Formal Methods
3
Pengkhususan
CSD 33503
Data Mining
3
Pengkhususan
Programme Elective II
3
Elektif Program
CSF 35204
Final Year Project II
4
PTA
Lulus CSF35104 Final Year Project I
Free Module Elective III
3
Elektif Bebas
Jumlah
16
4
1
CSF 47112
Industrial Training
12
LI
Lulus semua subjek
JUMLAH BESAR
123
SENARAI KURSUS ELEKTIF
| | | | | | |
| --- | --- | --- | --- | --- | --- |
| Bil | Kod Kursus | Nama Kursus | Jam Kredit | Jenis | Prasyarat |
| 1 | CSD 33603 | Special Topics in Software Development | 3 | Elektif Program | |
| 2 | CSD 33703 | Digital Image Processing | 3 | Elektif Program | |
| 3 | CSD 33803 | Advanced Database | 3 | Elektif Program | |
| | CSD 33903 | Artificial Neural Networks | 3 | Elektif Program | |
Academic Requisites
BIL.
NAMA PROGRAM
STPM
MATRIKULASI/ASASI
DIPLOMA
STAM

1

IJAZAH SARJANA MUDA SAINS KOMPUTER (PEMBANGUNAN PERISIAN) DENGAN KEPUJIAN
- DC10
(3 ½ Tahun)

MEMENUHI SYARAT AM UNIVERSITI

DAN

Lulus STPM atau setara dengan mendapat sekurang-kurangnya PNGK 2.00

DAN

Mendapat sekurang-kurangnya Gred C (2.00) pada peringkat STPM dalam mana-mana DUA(2) matapelajaran.

DAN

Mendapat sekurang-kurangnya kepujian Gred C dalam mana-mana matapelajaran Mathematics (T) ATAU  Mathematics (M) di peringkat STPM.

ATAU

Mendapat sekurang-kurangnya kepujian Gred C dalam matapelajaran Matematik Tambahan pada peringkat SPM.

DAN

Mendapat sekurang-kurangnya Tahap 2 (Band 2) dalam MUET

MEMENUHI SYARAT AM UNIVERSITI

DAN

Mendapat sekurang-kurangnya PNGK 2.00 pada peringkat Matrikulasi / Asasi yang diiktiraf.

DAN

Mendapat sekurang-kurangnya Gred C (2.00) dalam mana-mana DUA (2) matapelajaran pada peringkat matrikulasi selain Matematik.

DAN

Mendapat sekurang-kurangnya kepujian Gred C dalam matapelajaran Matematik peringkat Matrikulasi/Asasi.

                                    ATAU

Mendapat sekurang-kurangnya kepujian Gred C dalam mata pelajaran Matematik Tambahan pada peringkat SPM.

 DAN

Mendapat sekurang-kurangnyaTahap 2 (Band 2) dalam MUET

MEMENUHI SYARAT AM UNIVERSITI

DAN

Mendapat sekurang- kurangnya PNGK 2.50 pada peringkat Diploma Sains Komputer/ Teknologi Maklumat /Kejuruteraan Perisian/Sistem Maklumat atau dalam bidang yang berkaitan.

DAN

Mendapat sekurang-kurangnya kepujian Gred C dalam matapelajaran Matematik Tambahan pada peringkat SPM.

DAN

Mendapat sekurang-kurangnya Tahap 2 (Band 2) dalam MUET

MEMENUHI SYARAT AM UNIVERSITI

                 

DAN

Mendapat sekurang - kurangnya  pangkat Jayyid pada peringkat STAM

DAN

Mendapat sekurang-kurangnya kepujian Gred C dalam matapelajaran Matematik Tambahan pada peringkat SPM.

DAN

Mendapat sekurang-kurangnya Tahap 2 (Band 2) dalam MUET

2

IJAZAH SARJANA MUDA SAINS KOMPUTER (KESELAMATAN RANGKAIAN KOMPUTER) DENGAN KEPUJIAN
- DC27
(3 ½ Tahun)

3

IJAZAH SARJANA MUDA SAINS KOMPUTER (KOMPUTERAN INTERNET) DENGAN KEPUJIAN
-DC31
(3 ½ Tahun)
Academic Duration
The duration of this program is EIGHT (8) SEMESTER consisting of six (6) regular semester, one (1) semester short / special and six (6) months Industrial Training in selected foreign organizations.

Generally students will be graduating within THREE (3) YEAR and HALF.

  * For postgraduate Diploma of the Faculty of Informatics and Computing (FIK), the minimum duration may be terminated within three years if the conditions are met and approval of credit is granted.