Diploma in Information Technology D2801
Objectives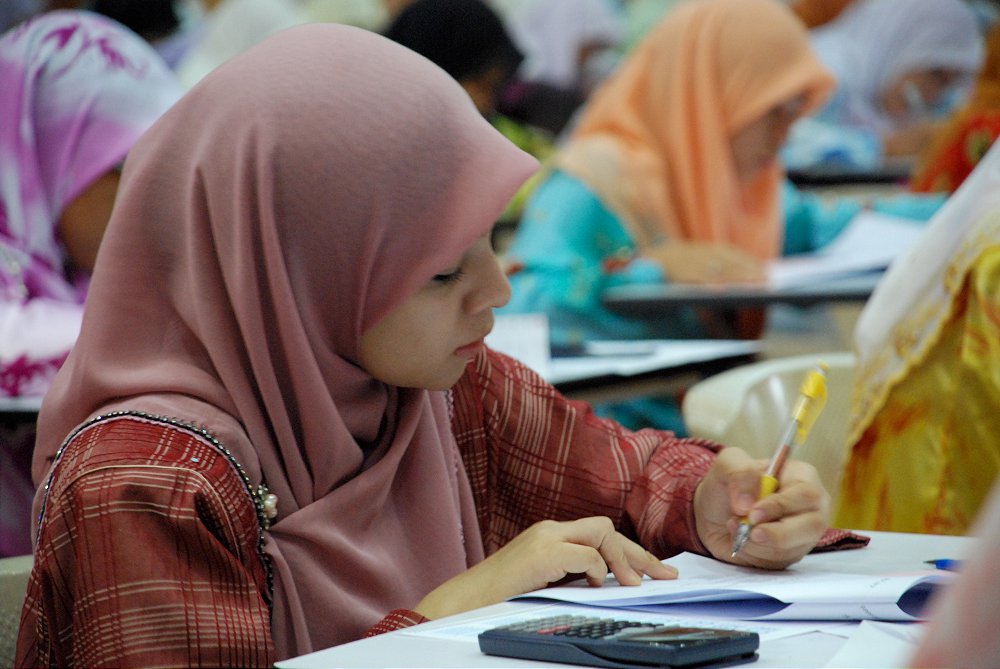 | | |
| --- | --- |
| 1. | To produce skilled muslim worker generation in the fields of information technology with intergrated islamic education background suitable for self preparation to enter work or other fields. |
| 2. | To provide work force with deep theoretical knowledge and practical skills in information technology so as to understand and solve issues regarding computer based information technology and other related fields. |
| 3. | Expose graduates with various latest techniques in software development process. |
| 4. | To provide graduates who are capable of doing research systematically and objectively thus making the required decisions. |
| 5. | To expose students to various elementary courses connected with ICT so as to be able to further their academic pursuit. |
Learning Outcomes
At the end of the program, the student seeks to:
Resolving problems with sufficient mastery in the field of Technology edict.
Produce original problem resolution through high technical proficiency in the field of ICT in conformity with the purposes of the market during.
Manipulating techniques / method / technology logically and analytical problem solving.
Assessing and responding through critical and creative thinking.
Giving response through communication skills and enthusiasm to work in the army teamed up and have skills to lead.
Explaining something on the stage of professionalism, ethics, conscience and high personal value.
Following technology through proficiency during clump together and managing information.
Track and launch opportunities through skill and care of entrepreneurship source.
Study the problems through capable lifelong learning.
Courses Structure
No.
Course Code
Course Name
Credit Hour
Short Semester
MPU21012
Kenegaraan dan Kemasyarakatan
2
11
MPU23012/
Aqidah dan Akhlak (Islam)/
2
MPU23022
Moral dan Etika I (Bukan Islam)
MPU23032/
Fiqh Ibadat (Islam)/
2
MPU23042
Perbandingan Agama I (Bukan Islam)
MPU22012
English I
2
KK******
Kokurikulum
3
Semester 1
ITD11103
Algebra and Calculus
3
18
ITD11203
Computer Programming
3
ITD11303
Database
3
MMD11103
Human Computer Interaction
3
ITD13103
Data Communication
3
*** ****
Elective I
3
Semester 2
MPU22092
Asas Pembudayaan Keusahawanan
2
20
ITD11403
Discrete Mathematics
3
ITD21303
Object Oriented Programming*
3
ITD11603
Web Programming*
3
ITD13203
System Analysis and Design
3
ITD11703
Computer Architecture
3
ITD13403
Data Communication Workshop I
3
Short Semester
MPU220**
Bahasa Asing
2
10
MPU23050/
Tajwid Al-Quran (Islam)/
Audit
MPU23060
Etiket Sosial dan Penampilan Diri (Bukan Islam)
MPU22022
English II
2
********
Elective II
3
********
Elective III
3
Semester 1
ITD21103
Statistics and Probability
3
19
ITD11803
Operating System
3
ITD11503
Data Structure*
3
ITD23103
Advanced Application Workshop
3
ITD23203
Data Communication Workshop II
3
ITD21404
Project
4
Semester 2
ITD27112
Industrial Training
12
12
Jumlah
90
Academic Requisites
MEMENUHI SYARAT AM UNIVERSITI

DAN

Mendapat sekurang-kurangnya SATU (1) kepujian (Gred C) daripada mata pelajaran berikut :
Pendidikan Islam
Pendidikan Syariah Islamiah
Pendidikan Al-Quran dan Al-Sunnah
Tasawwur Islam
Bahasa Arab
DAN

Mendapat sekurang-kurangnya kepujian (Gred C) dalam matapelajaran Matematik

DAN

Mendapat sekurang-kurangnya DUA (2) kepujian (Gred C) dalam mata pelajaran lain selain daripada mata pelajaran di atas.

DAN

Mendapat sekurang-kurangnya Lulus (Gred D) dalam mata pelajaran Bahasa Inggeris
Academic Duration
Academic studies: Two years (2 Years), four regular semesters and two short semester.

Learning methods include lectures, tutorials, assignments, practical exercises and a final project.