Solutions with immersive experiences
We offer Augmented and Virtual Reality Solutions as per the industry requirements. We sustain strong experience in the field of AR/VR solutions which enables us to deliver a remarkable quality of graphics and content. Our AR/VR solutions consolidate cutting-edge technology and comfort of usage.
Getting Deeper Into the Notions
Since 'technological realities' appeared not long ago, a misinterpretation between the three notions is still common, so let's clarify what is what: Virtual reality totally replaces the real environment with a virtual yet interactive world. Despite unique experience it creates, VR business solutions require full user attention and can't be utilized without specialized headsets such as Smart Glasses. Augmented Reality interferes into the existing reality, allowing to transform it into virtual objects. Unlike virtual and mixed reality, augmented reality apps are available to customers with no extra devices. Mixed Reality is a level up as it combines VR and AR features, allowing to place virtual objects in the real environment and manipulate with them. As virtual reality solutions, mixed reality apps require using dedicated devices as well. All three technologies enhance customer's perception by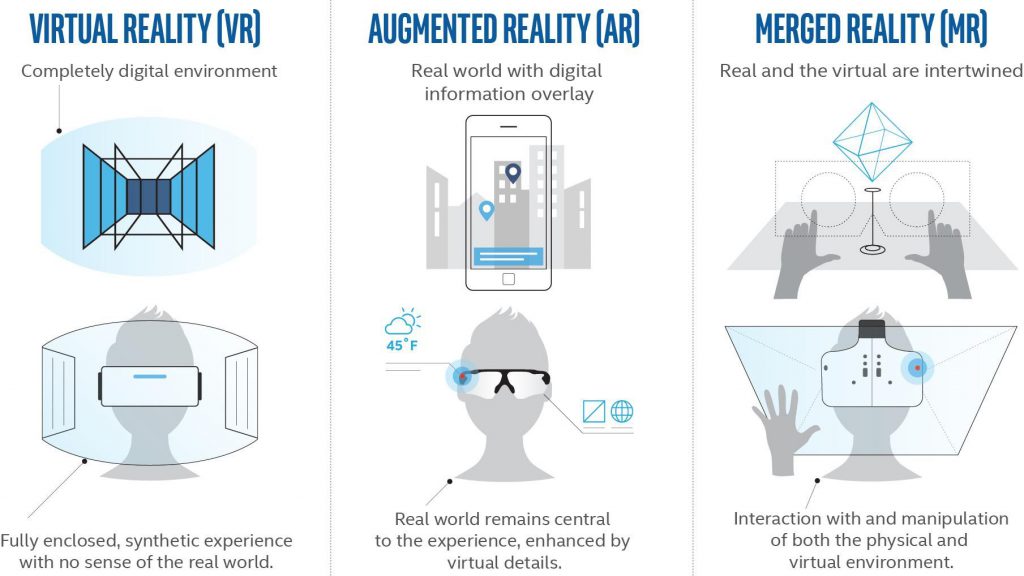 Convert your ideas into products and apps through VR solutions. Deliver an enhanced quality of presentation and experience with virtual reality solutions.

For delivering the best possible solution to our clients, we initially understand the domain of their business, challenges faced by them and their goals.

Devise and deliver an AR/VR experience that would expand and magnify the human interaction experience across the business.

Business and Enterprise Solutions
We are design customized AR and VR solutions to fit the unique requirements of our client's enterprise and business. This includes interactive kiosks, virtual fitting rooms, virtual conferencing applications and much more.
With our unique solutions, we have gained immense experience to design and build some amazing gaming experiences with AR and VR technologies. Our solutions are of unique importance with their user-friendliness and high-quality graphics.
Marketing and Promotional Tools
We implement marketing and promotional tools such as live product demos, interactive walkthroughs and many more to enable the business to sustain an impactful marketing.We implement marketing and promotional tools such as live product demos, interactive walkthroughs and many more to enable the business to sustain an impactful marketing.
Training and Development Modules
In order to execute the training process in a more realistic and interactive manner for the student's and the professionals, we have mastered in utilizing AR and VR for creating simulative and interactive modules across diversified industries.
Be its data analysis, training, and control of operations, visual storytelling, or presentation. We deliver an interactive and creative visualized solutions for it.
Entertaining and rich social experiences tend to provide a winning edge to any business. We make sure we craft such social experiences through our knowledge on a variety of VR and AR devices.
Best Existing VR/MR/AR Business Ideas
Mixed, virtual and augmented reality business opportunities become most evident when shown on particular cases. The illustration below reveals the best virtual, mixed and augmented reality-real world applications that have already enriched related areas.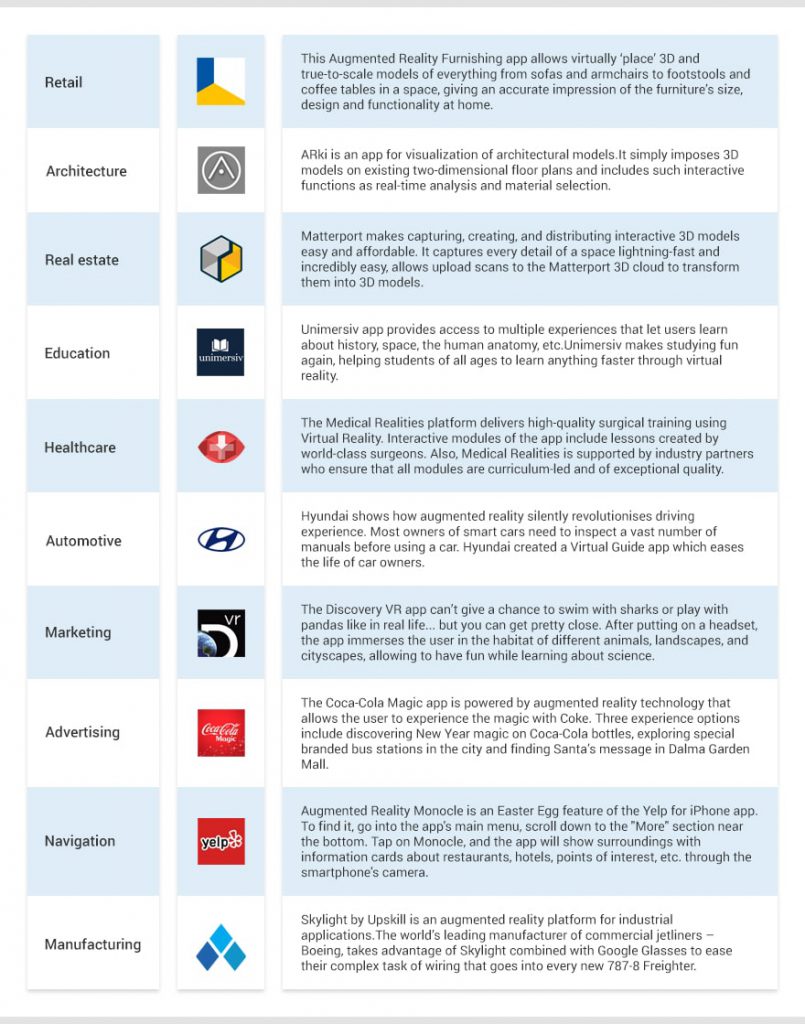 We Provide The Best Services
We Believe In Creating Solutions That Matters For You Through Our Offerings.