Custom Software
Development Services
Businesses who want to gain a competitive edge by delivering a niche product or service, or who have a requirement that is otherwise outside the mainstream of their target industry face a dilemma because they must either create it themselves or compromise their vision and strategy to match what is already available and can be modified for a price.
[ WHAT IS CUSTOM SOFTWARE DEVELOPMENT? ]
Development Services
UI UX, UI Bootstrap, jQuery UI, Angular UI, AngularJS
Java: Core JAVA, JDK, J2EE, JavaSE, Spring Hiberrnate, Struts, Web Services.
PHP: Cake PHP, Codeigniter, WordPress, Magento, Joomla, Drupal.
Dot NET: MS Visual Studios, ASP.NET, C# with .NET, Core MVC.
Benefits From Our Custom Software Development Services
[

01] Business-focused application development across the entire operational domain.
[
02] Reduce system downtime and help you focus on strategic initiatives.
[
03] Better integration with legacy systems and business-wide processes.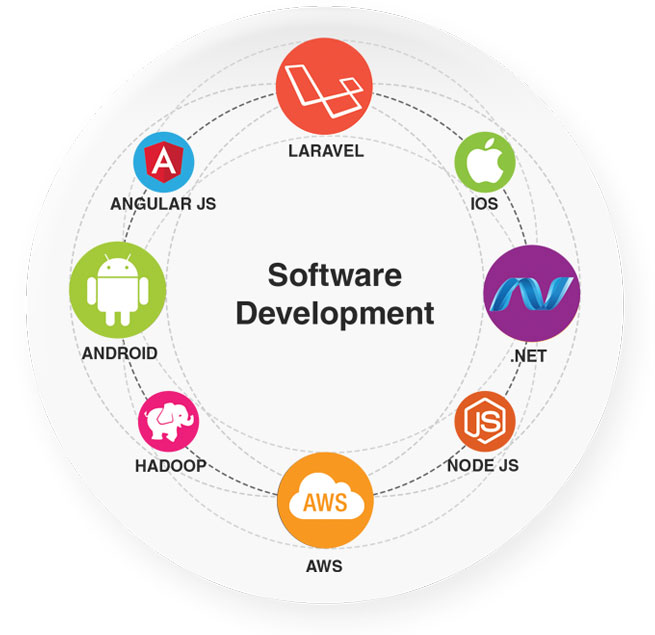 Lead Module
A lead is a prospect or potential opportunity - a person you met at a conference or a person who called in and expressed interest who will later be incorporated to become your customer. The Lead form will keep track of all the lead's information as well as Activities and Attachments for your further follow up.
Organization Module
This module is used to stored customers' information. This allows your sales team to better manage their customer detail, as well as records or reminders of interaction and documents with those customers. Customers purchase history can be recorded in this module as well.
Contact Module
Contacts are all of the individuals, or contact person associated with customers which are stored in the Organization Module. You can use this module to record activities, reminders, past purchases and attachments for this contact.
Campaign Module
A campaign is an outbound marketing project that user want to plan, manage, and track within Company. It also allows sales team can better communicate with customer; can make better offers and services and close sales speedily.
Opportunity Module
Opportunities are the sales and pending deals that user want to track. Every Opportunity will be under analyzing, classifying, filtering and converting. There clearly show in information of opportunity in source, buying potential, opportunity type, and primary contact.
Activity Module
Activities include tasks and calendar events. User can define and track activities for many different objects, including campaigns, Organization, contacts, and leads. Activities display in related lists on associated records as well as on the Home tab. When creating an activity, user can describe the activity and specify attributes such as priority, due date, and status.
Action Module
This module is displays all the activity on the calendar by daily, weekly or monthly.
Partner Module
Partners are the companies with which you collaborate to close your sales deals.
Latest Messages Module
That allows designing new messages and publishing on the main page during the effective date to inform particular user.
Mass Messaging Module
Mass Messaging is spreading an advertising message or signal over a wide area, for example via SMS or Email to send the advertising message.
Reports
That allows users to view reports.
Lead Source
Lead Sources where you obtained your leads. By tagging leads with the Lead Sources, you can track how effective each Lead Source are and therefore, where to spend your marketing budget on.
Product
This product form is used to keep information of product and services. Those include quantity of product, purchase prices, quantity of stock, product information details and vendor's name.
User Team
User Teams allows you to associate users with teams, and allow records such as Lead, Contact and Organization to access records shared to a team.
Sales Stage
Sales Stage reflects the sales practices of company sales. It identifies both the major stages of sales cycle and the activities that need to be accomplished within each stage. It also represents the probability of the sales stage
File Brower
That allows users upload files to the Server.
We Provide The Best Services
We Believe In Creating Solutions That Matters For You Through Our Offerings.